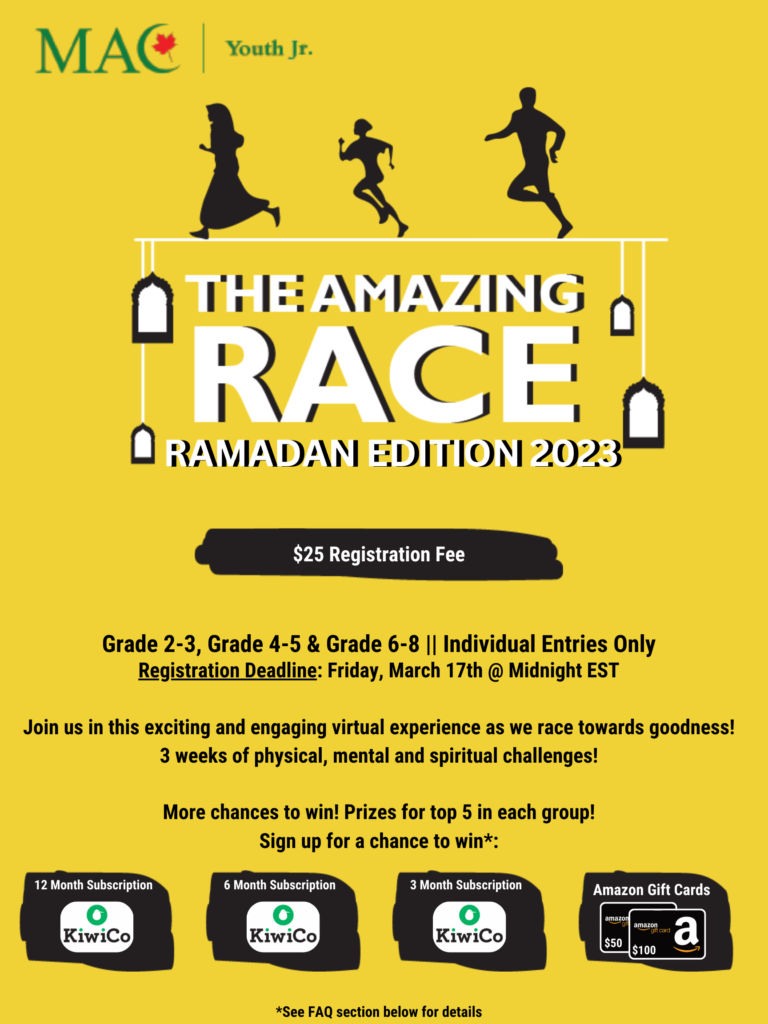 Lets Race to Goodness!
Assalamu Alikum!
We are excited to kick off the Amazing Race – Ramadan Edition for 2023!
We have an amazing competition and more chances to WIN this year for students from Grade 2 to 8!
InSha'Allah this year we'll have 3 riveting weeks of challenges, with winners being announced on Eid Day!
Each week participants will get 5 challenges, of which they only need to choose 3, to complete by the end of the week. The challenges vary from physical tasks that will require participants to go outside and provide a picture and/or video of the task being completed, to creative tasks like drawing, writing or creating something using household items.
All challenges will be posted on Google Classrooms, which participants will receive an invitation to within the 'Welcome Email' that will be sent out on March 18th. This email will also contain submission instructions.
Important Dates
| | |
| --- | --- |
| Registration Closes | Friday, March 17th @ Midnight EST |
| Welcome Email Sent to Participants | Saturday, March 18th |
| Information Session (Online) | Sunday, March 19th @ 7 PM EST |
Let the Race Begin!
| | |
| --- | --- |
| Race Begins! | Saturday, March 25th @ 8 PM EST |
| Final Submissions! | Saturday, April 15th @ 5 to 8 PM EST |
| WINNERS ANNOUNCED | Friday, April 21st |
---
Registration has closed for the Amazing Race Ramadan Edition 2023. Thank you for your interest. To receive the latest updates on MAC Youth Jr programs, follow us on Instagram and Facebook @macyouthjr. We wish you a blessed Ramadan!
---
Frequently Asked Questions
Q: What are the prizes?
A: The top 3 prizes will be a subscription to KiwiCo. Award winners will be able to choose which crate they would like to receive. For more information about KiwiCo, please visit their website at https://www.kiwico.com/.
Q: How can I attend the online Information Session?
A: A live webinar will be hosted on Sunday, March 19th at 7 pm EST at https://tinyurl.com/MAC-AmazingRace-InfoSession

During this webinar, we'll be reviewing the rules of competition, how participants will receive their challenges and the submission process. We also be taking any questions.
The webinar will be recorded and shared on Google Classroom.
Q: Where and when will challenges be posted?
A: Challenges will be posted weekly for 3 weeks on Google Classroom, every Saturday at 8 PM EST.
All registered participants will receive a private invitation to the Google Classroom within the Welcome Email that will be sent once registration closes.